So today I'm starting a series here on the blog where I start to gather my ideas as far as what I'd like to see in our new home, and first on the list is a look at some contemporary living room ideas that stand out to me that I've found on Houzz today from some amazing designers and builders.
My hope is to be able to gather my ideas here on the blog to help me sort through what I like and what I don't like so I can find a design style for the new house that I will love for years to come.
Today it's contemporary but I also lean heavily towards the transitional style as well, so I'll be sorting through some inspiration for that style soon.
I've got to be one of the most confusing design clients around because I love a little bit of something from a number of styles, so I'm sure I'll have a variety of design styles going on in the house, but I want them to look good at the same time, you know what I mean?
So today I'm gathering some of the contemporary ideas that I've seen, as well as making some notes about what I like and don't like about each one to keep a record for myself.  Then in the meantime, you can enjoy something pretty to look at and hopefully find some inspiration as well.
Museum District Penthouse – M. James Design Group, Inc.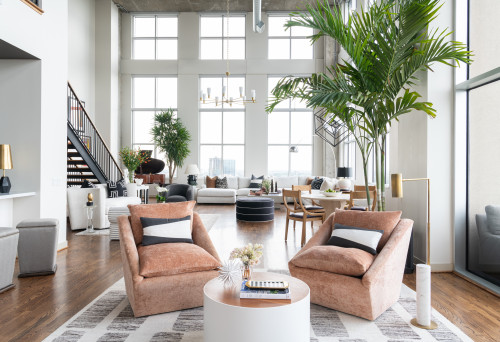 This one is probably one of my favorites when I take in the entire room.  It's something about the natural wood floors, the incorporation of beautiful plants and the textures that just make my heart smile.
Now my space is not set up like this exactly but looking back to the window wall, the sectional looks cozy and is neutral in color making it easy to change the pillows and colors,  so I can change the vibe of the complete vibe of the room without having to buy new furniture.
I love that there are multiple shapes in the space so it doesn't seem boxy and the metal accents are genius.
Love, love, love this vibe!
The windows make it bright, and I have windows in our space like this, so it keeps it airy.
I think this is somewhere in Houston, TX which makes all the sense in the world because, well that's where I'm from originally.
All in all, this speaks to me.
2. The Fun House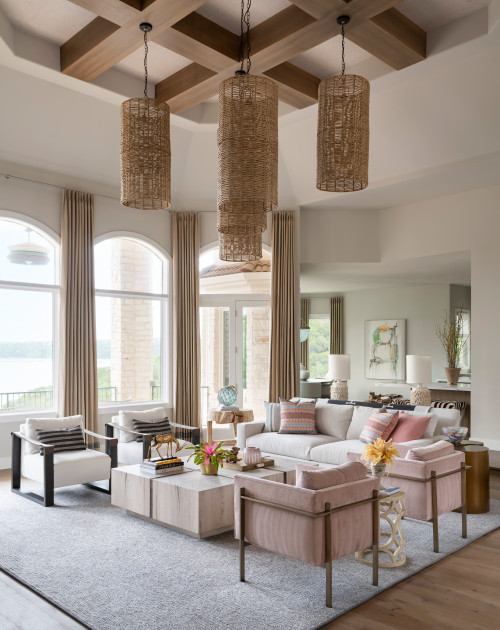 Ok to say I'm obsessed is an understatement!
What I'm noticing in all of the rooms I've kinda gathered together, is the main pieces of the room are neutral in color and the color is brought in through statement pieces, which in this case would be the side chairs and pillows.
No I know I'm drawn to this because the side chairs are a blush pink, which will not fly with Tim in the living room, but beyond that, the shape of the chairs is fabulous!
I really like a blue color pallet, so if I can find something like these in a bluish-gray hue or even navy, we'll be cooking with grease.
I really like how the designer got contrasting chairs to accent the room, while the color pallet is too feminine the setup is just the right amount of contemporary and transitional design that I can get with.
If you look closely enough, you can also see the zebra print bar stools in the back is tied in with the black and white striped lumbar pillows on the chairs closest to the window.
The lighting here is not to my taste, but I love the dramatics their light choice adds to the room.
All in all the detail in this room is amazing and I love it.
Another metropolitan Texas City design for the win!
3. Flower Mound Transitional Modern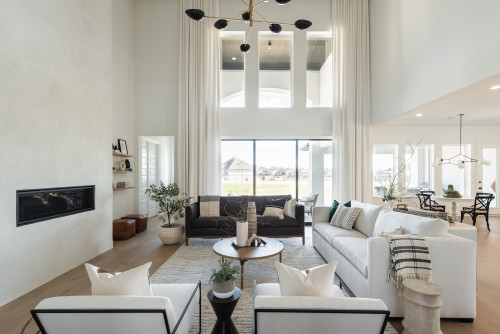 Now see this is where my confusion comes in because honestly, I love this as well.
I think what I love about it is the shapes again in the couch and the side chairs and how clean the design is.
Now this leans more along the side of a transitional modern style room, and if I may be honest it's not as cozy as I would like it, I still can't take my eyes off of it and could absolutely see myself living in this style of home.
The question becomes, however, is this something I could live with forever, and as pretty as it is I'm not sure I could take the simplicity of it for long.
I'd definitely have to beef up the lighting to be something with a little more drama, add some color and texture to the walls and with that, I'd probably love it.
Maybe a little more greenery as well, I'm not sure, but it's def beautiful!
Again, we've got the neutral sofas with color brought in through cushions and side chairs.
See this is why I'm doing this because my little indecisive self is all over the place, and I need to record my thoughts somewhere to help me sort this out.
4. Another Austin Texas Beauty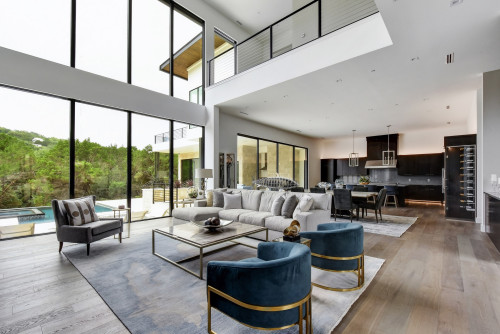 Alright, now I know what you're thinking. Kae this is too simple, but hear me out.
Ok so first of all the blue chairs with the brass detail are addicting, and I love that there are dark cabinets in the background.
Our cabinets are ebony stained and I've been debating whether or not I want to go through with painting them a lighter color once we move in so I'm also looking for design styles that can tie in my darker kitchen which is what stood out to me about this room.
Now I realize this room is a little more masculine than what I would want, I think it provides a good starting point.
The thing I'm learning about this contemporary design thing, is sometimes it can come across as minimalist and this is giving those vibes.
But honestly the compliment of the windows and that view, this particular room doesn't need a whole lot because the environment helps to shape the space.
In our case, we'd def have to soften it up a little with a lighter couch and armchair, add some drama with the lights, and add a couple of pieces of art, not too many to the walls.
I think this very same setup in a home with more transitional elements like stair railings, shaker cabinet fronts like ours, etc can totally change the look of the space and I'm here for it!
5. The coziness of it all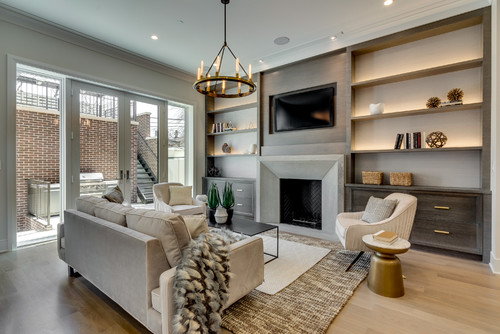 How cozy is this????
I can't tell you how much I love this setup and how I'm feeling the moody late afternoon vibes this is giving me!
The marble and brass side table, the shape of the side chairs, the shape of the sofa, it's all giving me life and I could absolutely do this!
Again, I told you I have to be the worst at this because I know this is completely different than what I've highlighted before.
A little more modern transitional I would call it, but so dope.
I'd def opt for a bigger more dramatic light fixture, maybe go a little more Persian in the rug to make it feel more lived in, but I love it and I could do this for sure!
6. Contemporary Living Room, Seattle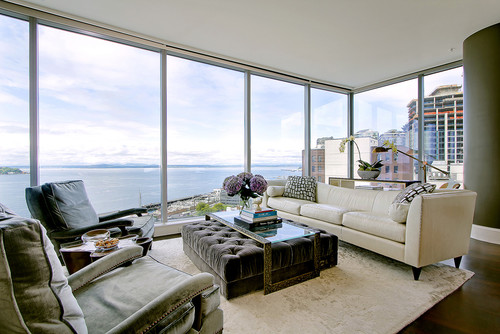 Help me, lol!!!
Ok, it's something about this that says kick back, have a great cocktail or two, and just vibe.
A little more simplistic than the rest I'm feeling the oversized side chairs, the coffee table and ottoman combo, and the modern curves on the arms of the sofa.
Now even though I've got this on the list for the living room, I can totally see a more compacted version of this upstairs in our entertaining area as well.
It's conversational and cozy, but still luxe at the same time.
The designer here is the bomb!
I wish I had this gift, and while I may or may not pursue a design like this for the more formal area downstairs I can def see this in the adult sitting area upstairs so it gets to stay on the list!
You know, it's really hard for me to put my finger on the exact style that I'm aiming for right now and I'm sure it's going to take me forever to design this dang on house, but I am pleased about progress in at least collecting some of my ideas here for easy access and study so when I enlist the help of a designer I know what to tell them.
This is a really exciting process for me and I can't wait to share more.
Are you a contemporary girl or do you like a more transitional style?
Which one was your favorite, I'd love to know?!?
So that's it for today, we're going to wrap it up here because I could go on and on forever.
Be back soon with my transitional options because I found a few that I can't take my eyes off of and I need a little help deciding on which direction to go!